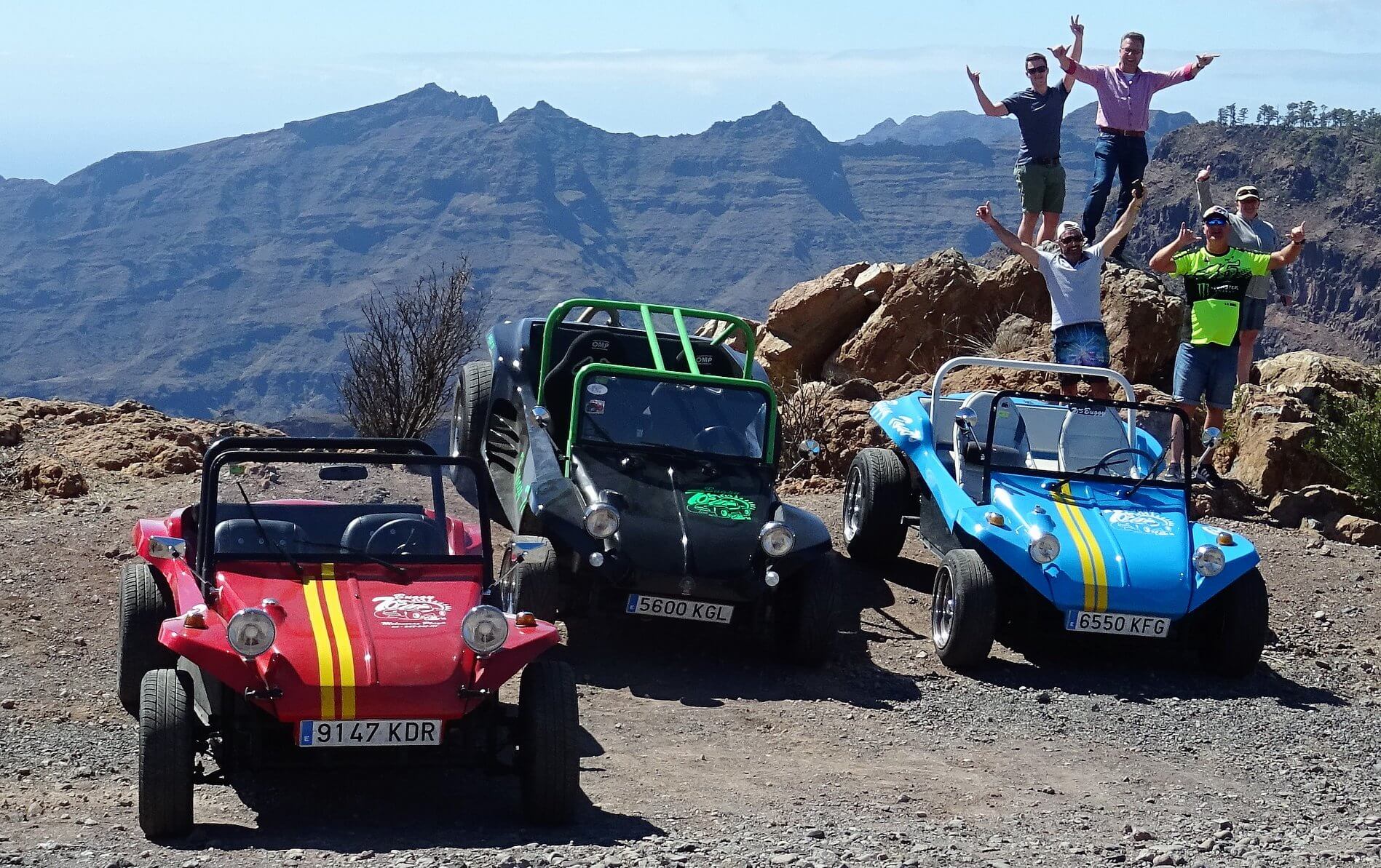 Drive a real 1970's buggy. The best way to discover Gran Canaria.
Book now one of our buggy tours in Gran Canaria. The experience we offer is the only one in the Canaries where you can drive real mythical buggies from the 1970s with a qualified instructor. Only 3 companies in Europe and 10 in the world offer this experience. We offer this unique ride to discover some of the most beautiful corners of the island. If necessary we can adapt to your wishes and your requests for a personalized tour in the south of the island. Enjoy superb Buggy tours in Gran Canaria in a friendly atmosphere. We will be delighted to enjoy this day with you.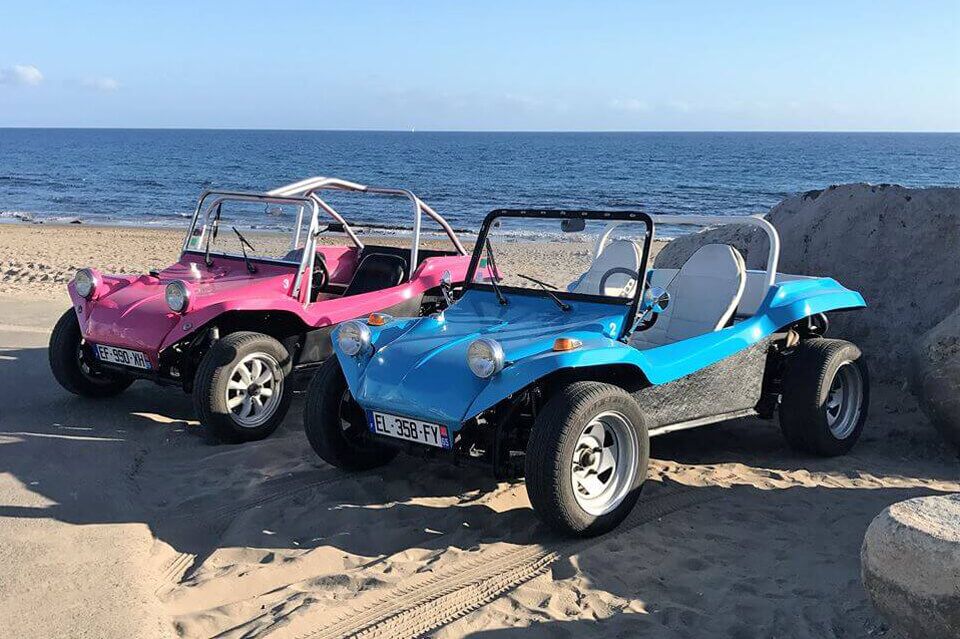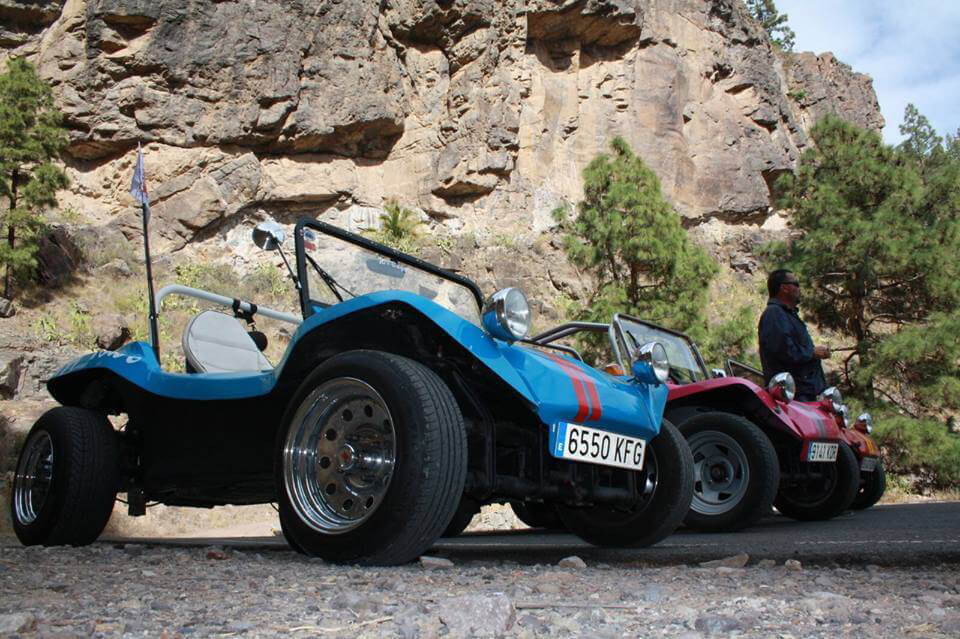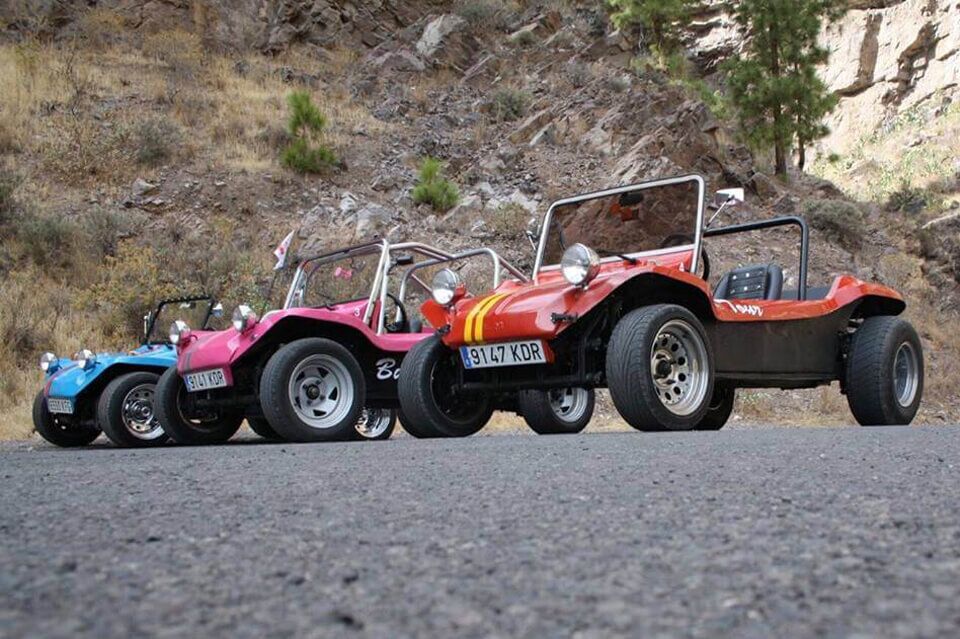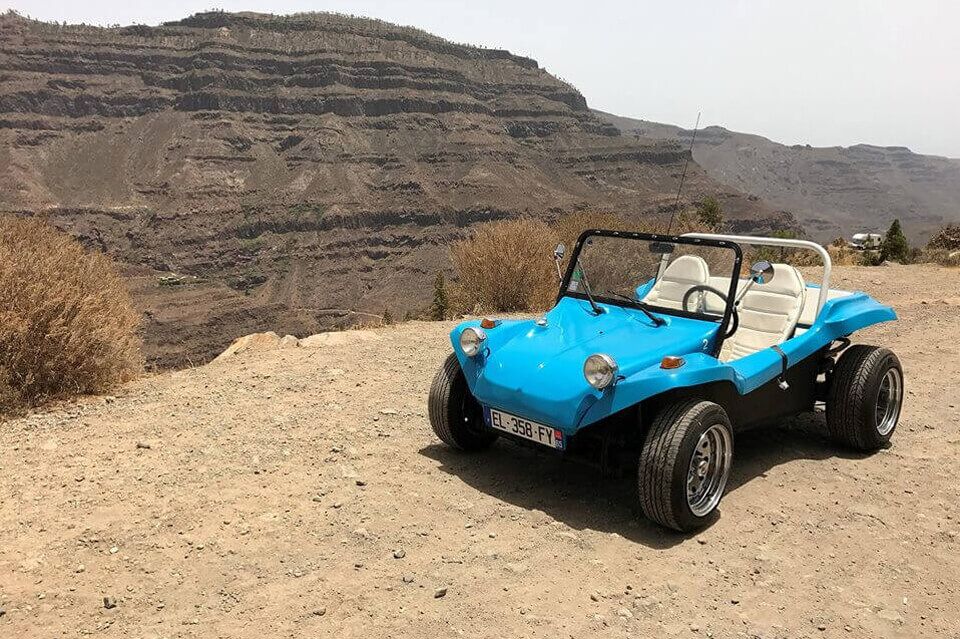 Join us in Gran Canaria and have fun!
70's Buggy Tours
Definitely a tour not to miss when visiting Gran Canaria
70s Buggy Tour in Gran Canaria
€189
Group size: 1 or 2 People / 1 Buggy
Duration: 1–3 hours
We offer you a buggy tour of at least 3 hours by the sea and in the middle of the canyons. This activity will allow you to discover the magnificent landscape of the south of Gran Canaria. There will be drinks offered in Cercado de Espino in a typical Canarian bar. Your guides will give you instructions and make sure you do this activity safely while having fun. The buggies are really fun to drive with very nice sensations. Come join us in this incredible adventure. We accept 2 people per vehicle and you can start anytime between 9am and 5pm.
Private 70s Buggy Tour in Gran Canaria
€219
Group size: 3 or 4 People / 1 Buggy
Duration: 1-3 hours
After having taken a superb road by the sea, you will discover a magnificent point of view on the coast and the horizon, but also the Maspalomas lighthouse in the distance, as well as the former NASA space center which served in the first image of the APOLO 11 expedition.
Located in the heart of the canyon, stop in a small Canrian village to offer you a drink stop included in the price of the excursion. And a few stops on the road to enjoy the most beautiful views of the mountain and the canyon.
Requirements
A full driving licence is required to drive a real 1970s buggy.
The age requirement to drive a 70s buggy is 25 years old.
Alcohol or drugs must not be consumed or taken before or during the experience.
Kids should be 6 years old or older to participate in a buggy tour.

Fun with beautiful scenery Simon picked us up from the hotel in the morning and took us on what was a highlight of our holiday. Can you visualise those switchback roads that they like to show on top gear then this is it in a vehicle that corners like its on rails. To put it succinctly this is fun with beautiful scenery

davidinleeds2016
12/08/2022
Buggy experience We booked with Simon and Philippe for a trip which we as a family of four had the pleasure to experience today. From the outset they were both friendly and efficient in their communication by messaging and by phone. They picked us up from our hotel and after showing us the basic function of the buggy we set off. The buggy was great fun to drive and you quickly feel confident behind the wheel. After a drive up a winding mountain road we stopped for some food and drinks, all of which were included in the price. Here we sat and chatted for approximately an hour. They are both great fun and interesting to talk to with their differing backgrounds to setting up this business. The drive back down the mountain to the hotel was scenic and allowed us all to once again experience the thrill of driving this buggy in the glorious Canarian sunshine with the wind blowing through our hair. Overall, a great driving experience and even better company. This is definitely a must do if in Gran Canaria. You will not be disappointed and will leave with a smile on of your faces.

Ninj A huge thank you to Philippe and Simon for making this one of the best days on the island. From start to finish the experience was amazing. To come off the beaten track in these buggies was an experience to remember. This is a must do activity. Highly recommended. Our young one especially enjoyed the winding roads through the mountains. Our eldest cannot wait until he is old enough to drive!! Philippe and Simon are great hosts and they will do everything to make this enjoyable for all. 10/10….more like 11/10 😊 Tip: Bring some towels. Seats get very hot!!
Stacyandmike11
06/08/2022
Great buggy's and brilliant drive into the mountains Great trip, the buggy's were so fun and we both got chance to drive which was fab too. We had two young children with us and Simon made sure they were happy and entertained the whole time. Booster seats were provided and Simon was so relaxed and happy chatting with the kids they had a great time… I do think they'll be practicing magic tricks for the rest of the holiday! I e-mailed in the week to book the trip and Phillipe answered all my questions quickly and got us booked in without any trouble at all. Even reassuring us that the trip was suitable for two young children and also ok for me when I'm 6 months pregnant too (which it was). Great views, fantastic buggy's and a brilliant drive up and into the mountains too! Thanks guys, highly recommended!

Super buggy Ausflug Was für ein Ausflug! Wir waren zwei Pärchen mit zwei Guides und 3 Buggys. Die Originalautos machten beim Fahren richtig Spaß! Und so düsten wir zu 6. an der Küste entlang und einen Berg hinauf, mit insgesamt 3 Zwischenstops. Bei den Stops erzählten uns die super lieben Guides einiges interessantes und auch viel lustiges! Alles in allem hatten wir in dieser kleinen Gruppe irrsinnigen Spaß!

An 11/10 day!! What an amazing experience we had today!! The buggy itself was incredible - we had one to ourselves and my boyfriend loved driving it around the stunning mountain setting. The trip itself was the perfect mix of fun driving and stopping at some lovely viewpoints where Simon showed us his skills in attracting peacocks! We also stopped at 2 little hidden gem cafes, where we shared some beautiful Canarian food with the group. This was a lovely touch and a chance to cool down in the shade. We can't write our review without mentioning the most welcoming guides Simon and Phillipe, who from the moment they picked us up at the hotel to the moment they dropped us back off were the friendliest, funniest and most interesting pair. Thank you both for making our trip so memorable and for giving us lots of tips about the local area. We highly recommend this trip - we are so glad we found it! Gracias! Sarah & Mark

Lad and Dad day Really enjoyed the freedom and fun driving about in the buggy. First time I have driven a buggy, my self and my son thoroughly enjoyed the experience, thank you Simon 👍🏼
Jean-Jacques S
19/07/2022
PARFAIT À faire absolument. Philippe est simplement génial, il vous fera passer une belle journée au rythme espagnol... Les buggys sont les "vrai LM1" pour les puristes, faciles à conduire. SUPER MOMENT. Merci Philippe.
Au Top 👌👌👌👌 Un grand merci A Philippe pour sa gentillesse et son professionnalisme. Nous avons passé un super moment et nous avons découvert de merveilleux paysages Vraiment activité testée et approuvée 😉

Amazing, Wonderful, Beautiful Absolutely amazing! Simon and Phillipe, wonderful people. The tour itself, beautiful. You get more than double your money's worth on this one. Multi hour long tour through the roads of Gran Canaria starting in the more densely populated area, going through to the outskirts and up to the top of one of the mountains, making a couple of pit stops at some locally run places for some drinks. Afterwards, it's back down the mountain and back to base. Once the tour had finished, both guys spent genuine time with us afterwards offering insights and recommendations around the island. I can't say enough good things about either of them, or the tour, so all I will say is you won't regret doing this one.
Monday – Sunday
9:00 AM – 10:00 PM
Address
Centro Comercial Playa Meloneras, C. Mar Blanco, 35100 San Bartolomé de Tirajana, Las Palmas, Spain
Book now your 70's buggy experience
Come and drive a real 1970s buggy during our excursion to the island of Gran Canaria! The best way to discover the island!
At Supercar Gran Canaria we invite you to take the driving seat in one of your dream cars for some adrenaline fuelled laps around Maspalomas race track.